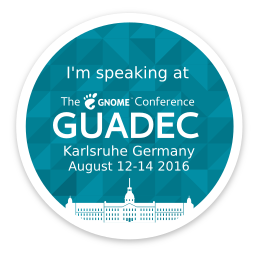 I'm going to talk about the evolution of GTK+ rendering, from its humble origins of X11 graphics contexts, to Cairo, to GSK. If you are interested in this kind of stuff, you can either attend my presentation on Saturday at 11 in the Grace Room, or you can just find me and have a chat.
I'm also going to stick around during the BoF days — especially for the usual GTK+ team meeting, which will be on the 15th.
See you all in Karlsruhe.